Xuefei Yang
Chinese Classical Guitarist
Xuefei Yang holds the distinction of being the first Chinese guitarist to graduate from Beijing's Central Conservatory of Music. She graduated with a BA degree and is the first guitarist from China to study classical guitar in the West. 
Royal Academy Training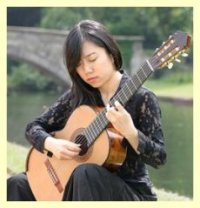 She was the first Chinese student ever to receive an international scholarship from the Associated Board of The Royal Schools of Music and moved to England for her postgraduate study at The Royal Academy of Music.
Based in the UK since 2000 she's studied with Michael Lewin, John Mills and Timothy Walker at the Royal Academy of Music and graduated with distinction.
She won the Principal's prize for exceptional all-round studentship and was awarded a Recital Diploma. Xuefei also won the Dorothy Grinstead Prize and was awarded the Dip.RAM, the Royal Academy's highest performance award. In 2005 her outstanding achievements earned her the "Associate" title granted by the Academy. 
Began Guitar at The Age Of Seven
Xuefei Yang's interest in the guitar began at the age of seven and formal guitar tuition began at ten years old with guitar master Chen Zhi. Her first public performance was at the First China International Guitar Festival.
Her successful appearance was met with such acclaim that the Spanish Ambassador to China presented her with a hand made concert guitar, her first professional quality classical guitar. Throughout her school years she toured extensively, giving concerts in China, Macau, Spain, Australia, Taiwan, Japan and Portugal.
Tokyo Award And Attention From The Stars
The Guitar Alliance of Japan gave Xuefei a special award when she played in Tokyo. She was presented with a concert guitar by the renowned Japanese luthier, Masaru Kohno.
From the very beginning of her career, Xuefei has attracted interest and praise from some of the big names in the classical guitar world. The composer Rodrigo attended her debut concert in Madrid when she was fourteen. John Williams was so impressed with her ability that in 1995 he presented her Conservatory with two of his own Greg Smallman guitars for her and other students to play.
Xuefei Yang In Demand Worldwide
Concerts throughout the UK, Europe, Asia and North America and in the most prestigious venues have lead to a highly successful recording career. Xuefei Yang, it seems, is destined for a place right at the very top of the classical guitar world.
Asturius (Leyenda) From The "Suite Espanola" By Isaac Albenez
Have You Seen Xuefei In Concert Or Have One Of Her CDs?
Help spread the word about Xuefei Yang. Give a review of her recordings or a concert performance by going to the Favorite Player section. It's easy to use, just type your review and upload a photo if you have one. 
Return to Top: Xuefei Yang
Lost? Search Our Site!
Classical Guitars --- Spanish Guitar Makers --- Other Guitar Makers

Classical Guitar Players --- History of Classical Guitar --- Learn to Play Classical Guitar

Build Classical Guitars --- Guitar Making Schools --- Privacy Policy

Used Classical Guitars for Sale --- History of Classical Guitar