Guitar Making Schools
Totnes School Of Guitar Making
The first of our featured classical guitar making schools is based in Totnes in Devon, England. The Totnes School of Guitar Making runs three courses a year limited to just seven people on each course. A course lasts twelve weeks so they are only suitable for people who want to make a career out of guitar building or are able to dedicate that much time. 
Students appear to be able to build any kind of guitar they like. Most build modern guitars including classical, but some choose to build replicas of well known guitars and old designs.
The Course
Everything from how a guitar's performance is affected by the properties of the materials used to the tools and how to use them is covered by the course. Whether other guitar making schools offer such a comprehensive course or not I'll find out when I research more of this subject.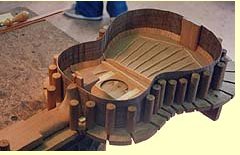 Because there's no set guitar type and students can build their own choice of instrument, the focus is on traditional methods of construction using small hand tools.
Eventually the final thrill of stringing and playing the guitar is experienced. You know, maybe I will give it a try!
From what I've seen and heard The Totnes School of Guitar Making is one of the very best guitar making schools 
International Spanish guitar-making courses in Spain
The course in Spain has a maximum of 4 students taught by experienced teacher and professional guitar maker: Stephen Hill. He is well known as a guitar maker in the guitar world and has been making classical and flamenco guitars since 1986.
Students can choose to make either a classical or a flamenco guitar, following traditional forms adding their own designs in certain areas, such as the rosette and head.
If you have any comments or thoughts about guitar schools please use the form below. I'd like to know about any experiences you've had while building a guitar for yourself.
Return to Top: Guitar Making Schools
Lost? Search Our Site!
Classical Guitars --- Spanish Guitar Makers --- Other Guitar Makers

Classical Guitar Players --- History of Classical Guitar --- Learn to Play Classical Guitar

Build Classical Guitars --- Guitar Making Schools --- Privacy Policy

Used Classical Guitars for Sale --- History of Classical Guitar