Ramirez Classical Guitar
The seeds of the now famous Ramirez classical guitar dynasty were sown in 1870. At the age of just 12 years old, Jose Ramirez began work as an apprentice to Francisco Gonzalez in Madrid. 
Amalia Leads Ramirez Guitars
Now in the hands of the fourth generation of the Ramirez family, the business is run by Amalia Ramirez. Amalia joined the workshop when she was 21 years old and was taught the skills that had been handed down through the generations from Jose Ramirez. After leaving for a few years she returned to help her brother Jose Ramirez IV modernize the business. After the death of her brother in 2000, Amalia took over business operations.
The Next Ramirez Generation
The manufacture of Ramirez guitars will soon be in the hands of yet another generation of the family as at least two of Jose Ramirez IV's children have expressed an interest in continuing the family tradition. 
The Staff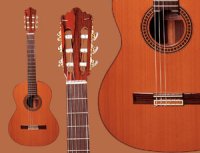 The House of Ramírez workforce comprises ten people. The workshop has three officials; Carmelo Llerena, Fernando Morcuende, and Ricardo Sáenz. There are three apprentices; Pedro Abel Morcuende, Laura del Pino, and Cecé Sánchez. Supervising the organization is Marisa Sanzano, who checks the production in the workshop and is also the administrator. Assisting with secretarial work is Arancha Prieto who works in the company's main office.
Two guitarists, with assistant Oscar Leal, work in the store; Antonio Molina, a rock guitarist, and the gifted flamenco guitarist, Paul Martínez who is responsible for the shop.
The Future
Despite the commercial pressures of competing with the large multi-national instrument makers it's clear that the Ramirez classical guitar will continue to be made in the traditional way for a long time to come.
You can visit the House of Ramirez web site by visiting the following link to the Ramirez classical guitar web site. 
Roki on a Jose Ramirez guitar

Return to Top: Ramirez Classical Guitar
Lost? Search Our Site!
Classical Guitars --- Spanish Guitar Makers --- Other Guitar Makers

Classical Guitar Players --- History of Classical Guitar --- Learn to Play Classical Guitar

Build Classical Guitars --- Guitar Making Schools --- Privacy Policy

Used Classical Guitars for Sale --- History of Classical Guitar