Antonio Sanchez
Classical Guitars
Although Antonio Sanchez classical guitars are built in a factory with a capacity to produce around ten thousand instruments a year, the company proudly maintains a traditional approach to guitar making. 
The workshop is based in Paterna. Its staff of twenty craftsmen have many decades of experience between them.
The company prides itself in a commitment quality and good production practices. 
Luthier Craftmanship Awards
After many years as a luthier in the workshops and factories of other Spanish guitar makers, Antonio Sanchez started his company, Concert, SA, in Valencia in 1984.
Its success has resulted in an award for exports in 1989 and two craftsmanship awards in 1990 and 1996.
The craftsmanship awards reflect the company's commitment to building the Sanchez classical guitars in the traditional Spanish way.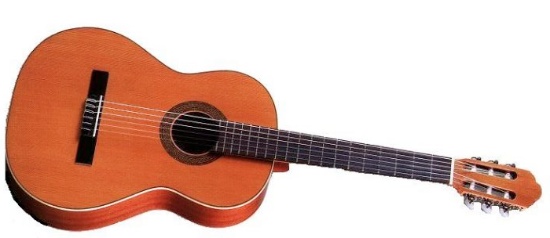 Here is an amazing selection of Sanchez guitars on Amazon.com, all available with FREE shipping at at great prices.
Antonio Sanchez Builds Guitars
One of the ways that Antonio Sanchez stamps his personality on the guitars is that he personally selects the woods for them.
He supervises all aspects of production and personally builds the most prestigious models.
The past twenty years haven't just been about production. Constantly striving for perfection, Antonio Sanchez has studied and experimented with different woods and construction methods.
This has maintained the position of Antonio Sanchez classical guitars amongst the best produced in Spain.
Your Space
If you own, or aspire to owning, a Sanchez classical guitar, why not share your views and opinions with us?
You can find the simple form and picture upload here. Just fill in the details and we'll publish your opinion on our website!
Antonio Sanchez Guitar Videos
Here's a nice selection of Sanchez classical guitar videos.
Please let us know if you've created a YouTube video of you playing a Sanchez guitar, and we'll add you to our collection below.
Buy Antonio Sanchez Guitars
If you'd like to own one of these beautiful and lovely-sounding classical guitars, then click to search for models currently for sale.
Return to Top: Antonio Sanchez Classical Guitars
Lost? Search Our Site!
Classical Guitars --- Spanish Guitar Makers --- Other Guitar Makers

Classical Guitar Players --- History of Classical Guitar --- Learn to Play Classical Guitar

Build Classical Guitars --- Guitar Making Schools --- Privacy Policy

Used Classical Guitars for Sale --- History of Classical Guitar