Antonio Aparicio Classical Guitars
In the Spanish city of Valencia, Antonio Aparicio Classical Guitars are built using traditional skills combined with the latest construction methods. 
35 Years Of Experience
Antonio Aparicio has over 35 years experience as a luthier. All of the models in the guitar range feature close grained solid tops, and are built from fine quality tonewoods.
The standard range have laminated back and sides, and the instruments further up the range all have solid back and sides.
Aparicio flamenco and classical guitars are high-level instruments, sold at affordable prices. The best pairings of woods and bracing structures are chosen to define each model's desired sound.
Antonio Aparicio offers both student and professional models, constructed with either spruce or cedar tops.
Custom-Made Aparicio Guitars
Aparicio's master craftsmen offer a completely personalized guitar-making service. No matter what you want from your guitar, it's made possible and to order.
You can even ask for unusual builds, including:
7-String Guitars
8-String Guitars
10-String Guitars
If you have any information or have any experience with Antonio Aparicio guitars, please take a look at our new Your Space feature.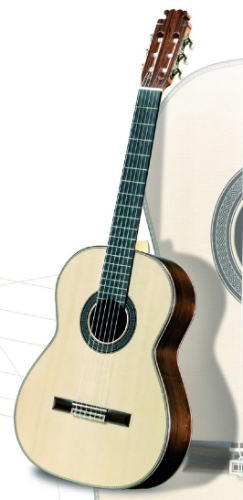 Antonio Aparicio Classical Guitar Videos
Here are some reviews of Antonio Aparicio guitars, as well as some really impressive performances from amateur players using their instruments.
If you have a Aparicio guitar and have made a video of yourself playing it, then please let us know and we'll add it to the collection!
Your Favorite Guitar Space
What's your favourite guitar? Tell us about the guitar you own, your first guitar or the one you would like to buy if you had the money.
Have you ever owned or do you currently play an Antonio Aparicio guitar. If so tell us about it.
Publish your thoughts and opinions about classical guitars here.
Find Your Aparicio Guitar
Click here to search for Aparicio Guitars For Sale
---
Return to Top: Antonio Aparicio Classical Guitars
Lost? Search Our Site!
Classical Guitars --- Spanish Guitar Makers --- Other Guitar Makers

Classical Guitar Players --- History of Classical Guitar --- Learn to Play Classical Guitar

Build Classical Guitars --- Guitar Making Schools --- Privacy Policy

Used Classical Guitars for Sale --- History of Classical Guitar