Vintage 1960 Goya G-20
by fred quann
(Tampa FL. USA)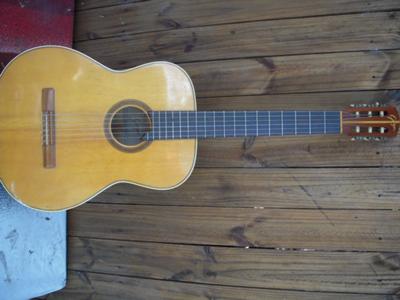 SOLD!
========


Note: This Guitar Has Been SOLD!
Congrats to the seller. Thanks for using the Classical Guitar World Free Classifieds
Bill
========
Vintage 1960 Goya G-20 Concert model classical Guitar.
Serial number is 240004. Goya guitars were made in Sweden and are excellent inexpensive guitars. Construction is Alpine Spruce top, rosewood fbd. flamed birch back and sides (I think).
This guitar is in excellent condition showing normal play wear mostly on the back, no cracks or repairs. Frets are good, and neck is straight. Goya made many models, G-10 to G-40. There were even subtle changes between models. I love the maple stripe thru the center of the peg head, and this stripe goes all the way down the back of the neck to the heel cap. This adds strength to the neck, and also a touch of class.
Rosette is very tasteful. A series of herringbone with a small rope design on each side. I am only able to download 2 photo, so this can not be seen, but I can send more photos thru my email address.
The top has mellowed to a nice pumpkin color, and has some patina crazing, but the finish is in tact.
The sound is full and rich and fingering is easy.
I love the original butter bean tuning knobs. Neck is
made of solid mohagany.
Go to Goya guitars.tripod.com for the full story of this wonderful guitar.
I am offering this guitar for a lot less than I paid for it. Only asking 400.00 with a SS case, and shipping inside the US should not be more than 35.00
Email me at f_quann@yahoo.com for more information.
Thank you