Vicente Carrillo Cantos Flaminco Guitar circa 1960
by J Penrose
(UK)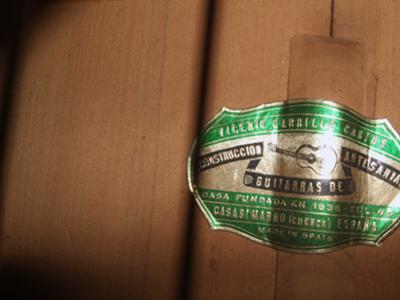 Vicente Carrillo Cantos Flaminco Guitar Label
Vicente Carrillo Cantos, circa 1960 Flamenco Guitar.


I dont know much about it but in good condition for year beautiful tone, I am open to offers.
jimpenrose (at) msn.com
====
EDITOR NOTE: If anyone has information about Vincente Carrillo Cantos guitars, please comment and add your knowledge.
====
Lost? Search Our Site!
Classical Guitars --- Spanish Guitar Makers --- Other Guitar Makers

Classical Guitar Players --- History of Classical Guitar --- Learn to Play Classical Guitar

Build Classical Guitars --- Guitar Making Schools --- Privacy Policy

Used Classical Guitars for Sale --- History of Classical Guitar