Used Kohno 1985 (model Maestro) to sell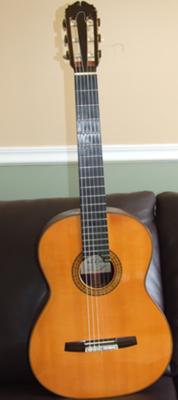 Asking $ 2000 for a Khono Maestro,the top model introduced in 1985 according to Sakurai Kohno. I bought it from Ichiro Suzuki who was promoting this model at Fort-de-France guitar festival in 1985.The scale length is 660 mm. The sound has matured and the guitar has great clarity of tone.


P.S. The french polish has deteriorated around the hill and the body sides. It shows scratches and playing wear as well.
Lost? Search Our Site!
Classical Guitars --- Spanish Guitar Makers --- Other Guitar Makers

Classical Guitar Players --- History of Classical Guitar --- Learn to Play Classical Guitar

Build Classical Guitars --- Guitar Making Schools --- Privacy Policy

Used Classical Guitars for Sale --- History of Classical Guitar