Takamine Hirade H10 Guitar
by Mike
(New York City )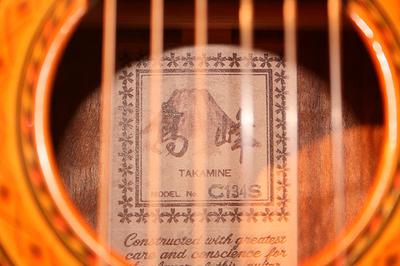 Takamine guitar logo inside instrument. Photo used under a creative commons licence with the kind permission of rabidmuskrat and Flickr
I've owned a Takamine Hirade H10 Guitar for over 10 years now. It's a great instrument.


The luthier that built signed the guitar (I can't make out his name). What I wanted to know is if the company has discontinued the H-10 and what its potential value may be.
I'll never sell this guitar as it has seen me progress through the years as a player. But I'm curious to the background of it.
Thanks!
Can anybody help out Mike with some history on the Takamine H10? It's certainly a valuable instrument, and there are few to none available for sale anywhere.

If you're interested in Takamine guitars, click here to search for models for sale online.
Photo used under a creative commons licence with the kind permission of rabidmuskrat and
Flickr
Join in and write your own page! It's easy to do. How? Simply click here to return to Classical Guitar Manufacturers.
Lost? Search Our Site!
Classical Guitars --- Spanish Guitar Makers --- Other Guitar Makers

Classical Guitar Players --- History of Classical Guitar --- Learn to Play Classical Guitar

Build Classical Guitars --- Guitar Making Schools --- Privacy Policy

Used Classical Guitars for Sale --- History of Classical Guitar