Robert Welford Classical Guitar 1999 for sale.
by Eric Crouch
(Thame, Oxfordshire, UK)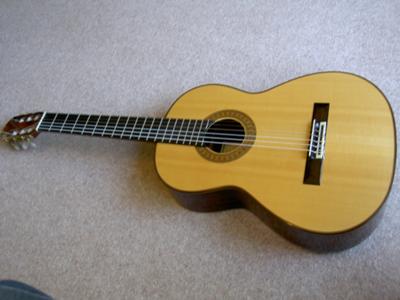 Robert Welford Classical Guitar
Scale length 651mm.


Spruce top, rosewood back and sides, ebony fingerboard, rosewood bridge.
This is a concert standard guitar, signed by the maker, with traditional fan strutting. It has a well, balanced, clear tone with a rich bass, well-sustained trebles and a good level of volume. It is in generally good condition, though it has one or two minor dings on the soundboard. The fingerboard width at the nut is 54mm, so it would suit a player with large hands (though currently I have it fitted with a nut that narrows the spread of the strings).
Robert Welford is based in Cambridge, UK; as far as I know he has not been a prolific maker, but the few other owners of his guitars I have come across have always regarded them highly. He has also been well regarded as a teacher of guitar construction (via his 1971 book and through classes he has given). I believe he gave all his guitars female names - this one is 'Juliet'.
Price £1150; includes a Kinsman hard case (carriage extra).
Located in Oxfordshire UK
contact: pogmoor (at) mac.com