R,E Brune 30F Flamenco Guitar $4500
by Danny Manani
(UK)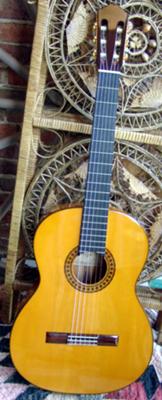 R.E BRUNE 30F Flamenco Guitar
A Very beautiful Guitar by R.E Brune


These Guitars were built under Mr. Brune supervision by master luthiers in Japan in 1989. Only 24 guitars were ever made I have not seen any for sale in the last 10 Years.
You can contact Richard Brune for more details to satisfy yourself but i can tell there is something magical about these guitar which I or any 30f owner can explain. It has flamenco sound with sweet trebles that cuts through any mix.
Again the guitar is absolutely a timeless collectors piece and a players dream with a Very Beautiful and rare with beautiful tone, low action and as usual perfect fret work.
No effort has been spared to marry the very finest of materials with the most spectacular workmanship to produce the ultimate musical tool for the serious musician.
Maker: R.E Brune
Model: 30 F Flamenco
Origin: USA
Top:Vintage Spruce
Back/Side: Cypress
Condition: Excellent
Price: $4500
This guitar has maintained with loving care, and it is in extraordinary condition. The neck is straight and true, and the headstock is clean and equipped with a beautiful set of tuners
I can send you some more hi res Picture just mail me!
Danny_manani@yahoo.co.uk
Contact:Danny
Phone: +447810028834
City: Isleworth
County: middlesex
Country: United Kingdom