Prudencio Saez G36 Guitar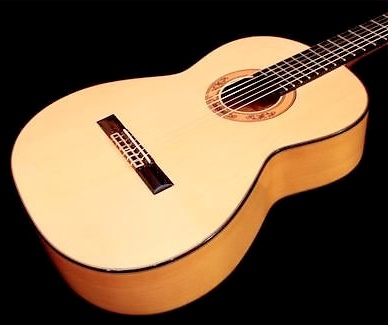 Prudencio Saez G36 Guitar: stop the agonizing, and get this great instrument!
Prudencio Saez G36 Guitar


My flamenco guitar is a Prudencio Sáez G36. Absolutely love it because of its tone and volume.
Strings do make a big difference, and my favorites are medium or normal tension Savarez 570CR Cristal Rouge Normal Tension and Aranjuez Silver 300s.
Those of us who
agonized over a good first guitar
know the research and the opinions: even "factory-made" models are unique, sometimes for better, sometimes for worse, they all have to be tried out, etc.
The G36 remains as the guitar I have not sold or traded, even when I was curious about getting something better. The sound was not improved so I have not purchased anything "better" yet.
Notes on the 12th and 13th fret ring out long and bright, like some guitars that I tested at 3x the price. Capo does not cause buzzing on 3rd, 4th or 5th strings, as I usually encounter on guitars of this price range by other makers.
Thanks for sharing your experience. If readers would like to join you with a Saez, then click here to search for Paez guitars for sale online. You won't be disappointed!