Narciso Yepes
by Geoff Andersen
(Somerset)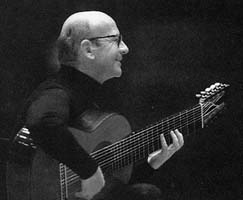 If ever a guitarist could inspire a person to buy a classical guitar and learn to play, for me it has to be Narciso Yepes. I first came across him many years ago when I wanted to get a copy of Rodrigo's Concierto d'Aranjuez as I'd heard, I think, a Julian Bream version. The only one available in the shop I visited was on Yepes' triple album on Deutsche Grammophon. I took my prize home and played it immediately. At once I was transported into another world Yepes' approach was so sensitive, apparently effortless, and atmospheric. I have been a fan ever since.


When I listen to recordings of Narciso Yepes, almost invariably something starts to melt inside , particularly when he plays Fernando Sor, whom I also love. I find I simply close my eyes, smile and tingle as his interpretations of Bach, Sor, Bacarisse, Rodrigo and so many others go far beyond mere technical mastery. He was one with his guitar and his instinctive feel for the music can lift me right out of my troubles any day!
In the early 60s he got together with Jose Ramirez the guitar maker and they produced his famous 10-string instrument which he tuned so that he could also play lute music from the original scores without having to transpose the bass notes. He recorded thousands of mainly baroque pieces, most of which he had researched himself and between 1964 and 1993 he averaged around 130 performances a year. Among many
awards he was even granted the Gold Medal for Distinction in Arts, conferred by King Juan Carlos I of Spain.
There are many fine young guitarists playing today, as a quick search on YouTube will reveal, and many masters from the last 150 years, but for me, the true maestro will probably always be Narciso Yepes.
Narciso Yepes Plays Bach Prelude
Some press cuttings, courtesy of Wikipedia:
* "Such incomparable artistry, coupled with staggering technical virtuosity, is rare among artists today." (RECORDS AND RECORDINGS)
* "Yepes is more than a brilliant virtuoso and more than a consummate musician ... he is a magician who needs no more than a rhythm or a chord to bring all under his power." (AUX ECOUTES, Paris)
* "He is a consummate technician and a knowledgeable interpreter in a variety of guitar idioms, from the Renaissance and Baroque to the Modern ... His attributes as a well-disciplined master of the guitar are of the first rank." (THE NEW YORK TIMES)
* "Other fine guitarists have visited Japan, but none of them, not even Segovia, revealed such delicacy and beauty in the instrument." (SANKEI SHINBUN, Tokyo)
* "...We consider Yepes the most complete guitarist of our times." (EL MERCURIO, Santiago de Chile)
* "An admirable musician, a master of his instrument ... his interpretations are solidly built up and are not affected by the slightest trace of sentiment ... The audience showed their enthusiasm by their eager and well-deserved applause and foot-stomping. Certainly merited". (JOURNAL DE GENEVE, Geneva)