Loprinzi Grand Artist Elite $3,500
by Jon
(Tampa)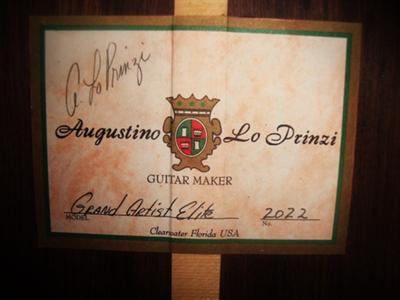 This Guitar is a 1995 Augustino LoPrinzi Grand Artist Elite concert classical Guitar. This guitar features a spruce top with tight grains and an exquisite bear claw. The back and sides are made from old stock Indian rosewood and the tuners are Sloane's. Augustino uses a hand rubbed oil varnish to protect his guitars. This LoPrinzi is $6,000 new. It has a powerful resonant sound with boomy bases. The trebles are punchy and sweet with good sustain. This guitar in excellent condition.


JonMc1980 (at) hotmail.com
Lost? Search Our Site!
Classical Guitars --- Spanish Guitar Makers --- Other Guitar Makers

Classical Guitar Players --- History of Classical Guitar --- Learn to Play Classical Guitar

Build Classical Guitars --- Guitar Making Schools --- Privacy Policy

Used Classical Guitars for Sale --- History of Classical Guitar