Jose Ramirez 1E (2005) Classical Guitar For Sale 1150 DOLLARS
by Linh Tran
(San jose , California)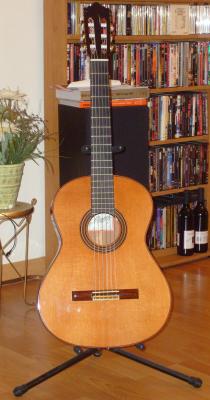 Jose Ramirez 1E Classical Guitar
I have the Ramirez 1E complete with humidified case. I bought it brand new.


It's been rarely play and it's been stored in case all the time. I need to sell it to a new home, if you are interested please drop me a word at my Email
linhtran_2168@yahoo.com
Lost? Search Our Site!
Classical Guitars --- Spanish Guitar Makers --- Other Guitar Makers

Classical Guitar Players --- History of Classical Guitar --- Learn to Play Classical Guitar

Build Classical Guitars --- Guitar Making Schools --- Privacy Policy

Used Classical Guitars for Sale --- History of Classical Guitar