HERMANOS LOZANO SPANISH CLASSICAL GUITAR for sale
by Olivier
(Tagolsheim / France)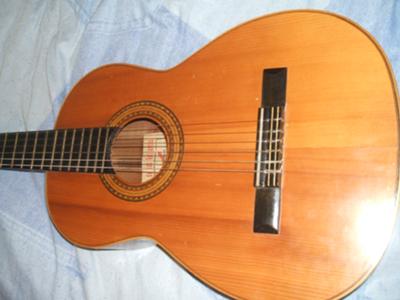 THIS IS AN ORIGINAL GUITAR FROM SPAIN BOUGHT BY MY PARENTS MANY YEARS AGO, the Label Says:


La casa de las guitarras
Laudes - Bandurrias
Aposentadores N. 3
(Juanto a San Juan de la Palma)
Sevilla (Spain)
YOU MAY NEED TO CHANGE STRINGS, AS IT'S NOT BEING PLAYED FOR MANY YEARS
I DON'T KNOW MUCH ABOUT CLASSICAL GUITARS BUT HERE IS A QUOTE FROM SOMEONE I ASKED ABOUT, A PROFESSIONAL GUITAR MANUFACTURER FROM SPAIN, IF YOU WANT TO KNOW THE REFERENCE PLEASE WRITE TO MY EMAIL ADDRESS BECAUSE I CANNOT POST THE LINK HERE ACCORDING TO SUBMISSION GUIDELINES
"The Hermanos Lozanos are (Bartolome Lozano Fernandez, born 1936) and brother (Miguel Lozano Fernandez, born 1934- died 1997).
They began making guitars in 1946, and eventually opened a music store, La Casa de las Guitarras, using the house label Hermanos Lozanos for the guitars they made or sold. As your guitar is unsigned, and is made from cheaper woods, I would estimate its value at 700 Euro."
$700 or Make an Offer I will Ship worldwide for free!
For More pictures please write to Anar.chronique@gmail.com