Giaochino Giussani 8-string guitar - $6000
by Colin
(Atlanta, Georgia)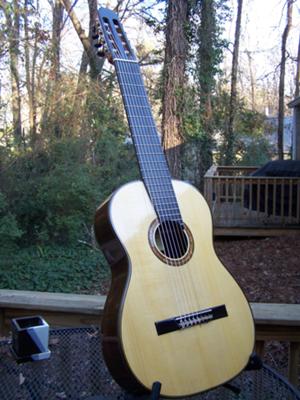 Giaochino Giussani 8-string guitar
Sold! No Longer Available
This guitar is somewhat heavy for a classical guitar, because the back and sides are extra-thick for strong projection. The top vibrates and sustains wonderfully. The guitar's voice is even and clear throughout all of the ranges. The aesthetic is simple and beautiful.
Great for ensemble work and would be perfect for for transcribing lute music. I currently have it tuned to:
BDEADGBE (low to high)
For Renaissance and Baroque music, one could put a higher string on it instead of two lower strings.
Pepe Romero has toured with a Giussani for orchestra work, and members of both the Brazilian Guitar Quartet and Guitart Quartet perform on Giussani guitars.
Year: 2005
Condition: Excellent
Country: Italy
Finish: French Polish
Top: Spruce
Scale Length: 650mm
Back & Sides: Indian Rosewood
Nut Width: 71mm