FLAMENCO- Randy Angella yr. 2005 $4000.00
by Marie
(San Francsico, CA.)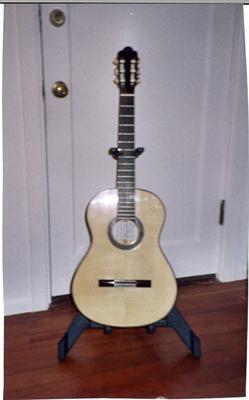 Flamenco -maker Randy Angella 2005
This guitar, is referred to as the BLONDIE #148, by the maker. Made in 2005 and IN MINT condition.


It's sound is bright and the guitar is VERY LIGHT in weight.
Randy Angella is a California Luthier. His work is
meticulous. Specs are:
Neck-HONDURAS MAHOGONY.
Fretboard-GABON.
Back and Sides-CANADIAN CYPRESS.
Braces-ITALIAN SPRUCE and BRAZILIAN ROSEWOOD.
Machines-GOTHOS.
Price - $4000
The finish is a FRENCH POLISH of shellac.
This guitar has also has a customized neck. The neck back is NOT as bulkie as traditional classical guitars. The fingerboard is standard size.
I am thinning out my herd of guitars.
The BLONDIE NEEDS to be played and loved by someone else. Angella makes some of the most incredible instruments I've ever laid my hands on or played. I've heard his guitars in live concerts too----WOW!.
You have to play it to believe it's quality. It has smoothness and speed on the fingerboard.
SEND ME AN EMAIL, I'll set up an appointment and answer your questions. I do not get to the computer that often, but I will respond.
THIS IS A CASH AND CARRY ITEM. I will not ship nor will I accept any money gram, or check. I need to put it into the buyer's hands.
(Also selling a GUILD MARK I all Mahogany AD, $875.00.)