Flamenco Guitar - Jose Lopez Bellido, Granada Spain
by Ted
(San Francisco, USA)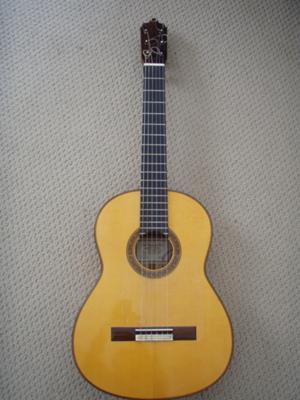 Jose Lopez Bellido Flamenco Guitar
The Spanish luthier Jose Lopez Bellido of Granada, Spain is a well known guitar builder of classical and flamenco guitars, but his flamenco guitars are especially sought after because they do have a sought after flamenco sound. Many well known guitar player's play Jose's guitars, like Juan Habichuela who is a famous flamenco guitar player. He loves playing Jose's guitars. Jose also plays flamenco guitar, so he knows how a flamenco guitar should sound and how it should feel in the player's hands. This particular flamenco guitar is without exception. The sound is loud, which is easily brought to life with a light touch of the strings, yet it still has that wonderful lyrical sweet tone, which is great for solo playing. But still, this a flamenco guitar, as it has that woody growl sound throughout all registers, which provides that punch, and that in-your-face flamenco sound. Rasgueados are also easy to play and is very raspy, which is very desirable for accompanying dancers. In summary, this is a first class, professional flamenco guitar.


Here's a link showing Juan Habichuela playing one of his Jose Lopez Bellido guitars: https://www.youtube.com/watch?v=gpfvrQKcPjc&feature=related
I'm not sure, but I heard that Jose Lopez Bellido retired last year, 2009. His guitars were already difficult to obtain, and now it will much more difficult to obtain one of his guitars.
Year: 2008
Type: Flamenco Blanca
String Length: 658mm
Nut: 53mm
Tuners: Ebony Pegs
Country: Spain (Granada)
Clase: 1A, Concert.
Condition: Like New
Asking: $5200.00
Method of Payment: Prefer bank transfer as method of payment.