classical guitar
by Sasan Ahovan
(Iran-Tehran)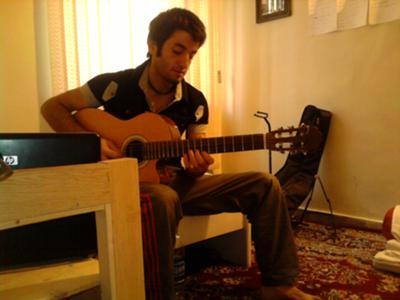 Dear Sir


My name is Sasan Ahovan 25years old from Iran. I play guitar in classic and pop for 7 years but before that I learned traditional instruments like Tanboor and Setar and I'll send you pics of them. My favourite guitar players are Andre Segovia, Villa Lopos , John Wilsiams in classical guitar and I am fan of Paco De Lucia and Ottmar Liebert in flamenco and I play pieces of Armik who is an Iranian guitar player in pop and flamenco. i have never been a guitar concert because I'm in Iran it's impossible that the players such as John Williams can come to perform in Iran. But i really like to participate a concert of them. But I saw a lot of video concerts of them.
I'm gonna go to Austria in Wian to study guitar 6 months later in classic.
thanks
Sincerely
Sasan Ahovan
Join in and write your own page! It's easy to do. How? Simply click here to return to Favourite Guitar Players.
Lost? Search Our Site!
Classical Guitars --- Spanish Guitar Makers --- Other Guitar Makers

Classical Guitar Players --- History of Classical Guitar --- Learn to Play Classical Guitar

Build Classical Guitars --- Guitar Making Schools --- Privacy Policy

Used Classical Guitars for Sale --- History of Classical Guitar