Casamiro Lozano 1A (2009) - $6400
by Greg
(Irvine, CA)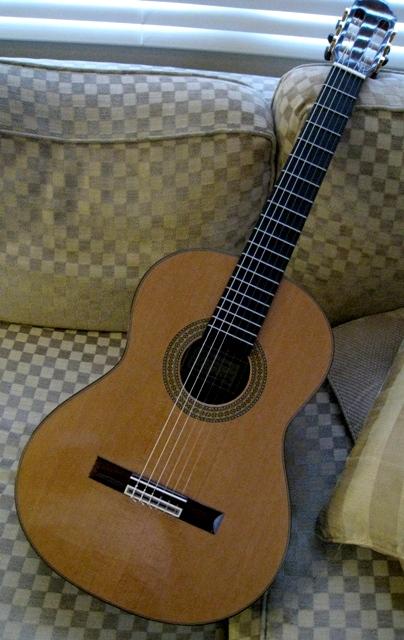 Feeling the need to sell my beautiful Casamiro Lozano 2009, Model 1A. It currently retails for $7850 but is available in very limited quantities since each guitar is made entirely by hand by one person.
Madagascar rosewood back and sides. Cedar top. Casamiro Lozano uses a modified brace system that you can read about by doing a web search. The only thing I know is that this is an exceptionally fine sounding instrument, warm and balanced, yet very loud with an immediate attack, and fantastic sustain. A truly surprising value for a concert level instrument. Comes with a Hiscox hard case.
This guitar has a shellac french polish covering - and it therefore picks up every nail mark. This is entirely normal and does not affect sound or playability. If these things really bother you, it can be repaired for $500 (I have a price quoted from a world renowned repair shop in San Diego). But I would not suggest this - at least not for a few more years as it's not really necessary. Plays and sounds fantastic, but I do realize that anything less than a perfect appearance detracts from such a fine instrument and I have priced it accordingly.
US sales only. Shipping and insurance are responsibility of seller though I will follow your directions exactly as you specify. I also have a suitable shipping container for this guitar as was given to me by www.(no space) classicguitar.com from whom I purchased this instrument earlier this year.
Located in Irvine, CA 92620
Phone: Greg at 714 323 4158
email: gregcardenas (delete space) @gmail.com