Brazilian Rosewood and Lattice Bellucci Concert Guitar 640mm
by Jorge Elvir
(Boca Raton, Fl)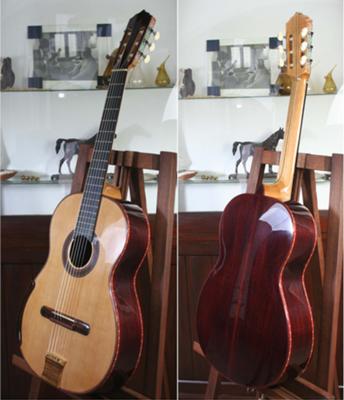 june 2008, This is a beautyful guitar and really new!! I bought to Bellucci web site.


¨...this Brazilian rosewood is simply UNBELIEVABLE !! The sensational, and huge are 2 of the adjectives that come to mind. The set that I received from Rio is not as flashy as other sets I received in the past but my Brazilian rosewood provider insisted that I purchase this based on the fabulous tap tone. He was right. The instrument turned out to be a sensational sound machine... The most amazing basses I have ever heard accompanied by crystal clear trebles... Sensational !
The Lattice Braced Cedar top adds the magnitude, projection and sustain you'd expect from concert class instrument. A colorful Handmade Brazilian rosette, luxury marquetry and figured Brazilian rosewood, armrest, violin tie and bridge add to the beauty of this one of a kind queen. I mounted an
exclusive hand painted set of tuners that harmonize kith the incredible beauty of this guitar.¨ Bellucci website ... http://www.mangore.com/bellucci-70-years-brazilian-rose-june-3-2008.html... take a look
I conserve it in the same condition I bought... I think it´s a good instrument without big pretentions, very easy to play, good and warm sound, beautyful.
$2000.
jorgeromero90@hotmail.com