Antonio Picado model 62, build in 2007
by Leon Kraan
(Lommel, Belgium)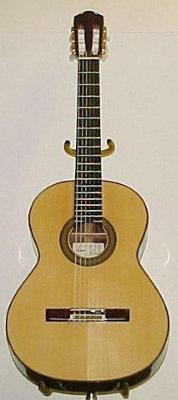 Antonio Picado model 62
This beautiful guitar is in mint condition, as new and its all french polished. It has a wonderful bright and warm sound like a proud lady.


Front: Canadian cedar
Body: Brazilian rosewood
Gear: Gotoh
Neckwidth: 52 mm at the nut
Scalelength: 650 mm
Included: Case
Price: $ 3300,00
Lost? Search Our Site!
Classical Guitars --- Spanish Guitar Makers --- Other Guitar Makers

Classical Guitar Players --- History of Classical Guitar --- Learn to Play Classical Guitar

Build Classical Guitars --- Guitar Making Schools --- Privacy Policy

Used Classical Guitars for Sale --- History of Classical Guitar