Antonio Loriente "Marieta" for sale
by Alan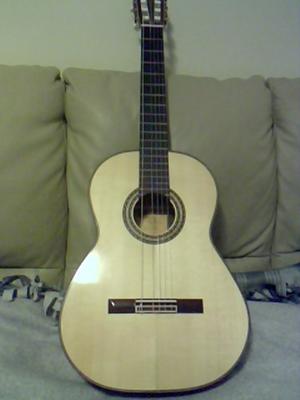 Antonio Loriente
--SOLD!--


Hello. I am selling my very nice and wonderful sounding Marieta classical guitar. It is a professional level instrument. Solid Spruce top, solid Indian Rosewood back and sides. Ebony fingerboard. French polish top, lacquer back and sides.
The tone on this guitar is really fantastic. It is very easy to play and has great intonation. This guitar was used at a wedding ceremony by a friend of mine who is a professional classical guitarist. He had many good things to say about it.
Comes with a case.
Please note that there was a slight imperfection in the top that was repaired at the factory and this guitar was therefore originally sold as a "second" with the serial number obscured. It is only a minor defect and this Marieta is every bit as good as other Marietas I have played.
It has some fingernail marks in the french polish top. This guitar is a great deal at this price!
I would prefer to sell locally, but if you are interested, I am sure we can arrange shipping within the US.
Thanks,