6-Course Custom Vihuela by Mark Stanley, 1994
by Rick Banuelos
(Billings, MT)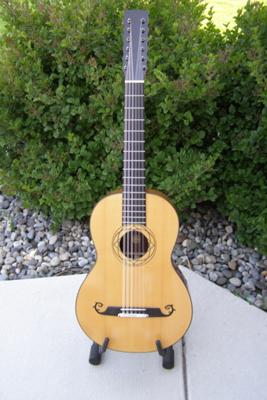 1994 Custom Built 6-course Vihuela by Mark Stanley


A great 12-string classical guitar.
For the past 15 years, this instrument has brought enjoyment and happiness to my family; now, it can be yours. This is an exquisite example of expert craftsmanship, exceeded in its aesthetic only in its tone and volume. It has been well played and well loved, and it has many more decades of great music ahead of it. Every detail of this guitar is perfectly crafted, from its bindings to its hand-carved ebony bridge. The friction pegs used to tune this instrument are also cut and carved by hand. A wonderful heirloom instrument sure to bring joy to its new player, and a sound investment considering the increasing rarity of Brazilian Rosewood. The guitar is in good condition with the expected fingernail marks and playing wear, and a small crack on the instrument's back.
I am the only owner of this instrument. You will be the second.
Reasonable offers are welcome; no trades.
For additional pictures
, please visit http://photobucket.com/vihuela
This guitar is being offered to you at a special price, and there is no trial period available. While the instrument would be insured when shipped, no possible claim could replace the guitar. The builder has retired, and I haven't seen another modern vihuela in my lifetime. I give you my word as a musician that it
is a world-class instrument, and will record some sound clips for you if you prefer, but I will likely not subject the instrument to repeated shipping stresses. It has never been shipped anywhere (hand-carried only), and I'd like to keep it that way but for the one time I ship it to you.
The original price of this instrument is nearly $6700.
SPECIFICATIONS AND INCLUDED ITEMS:
-640 millimeter scale length.
-54 millimeter nut width
-Bone bridge saddle with Mother-of-pearl inlay in the bridge base
-Solid Engelmann spruce top, East Indian Rosewood Rib Structures, and solid Brazilian Rosewood back.
-Hand-Carved, pearl-inlaid friction peg tuners.
-Maple neck with ebony stringers.
-Fingernail marks, mostly on treble side of strings. A small crack on the back (circled in picture), and a very small crack (could just be finish) at the instrument's waist.
-Ebony headstock veneers.
-Bound in black with white-black purflings.
-Absolutely ONE OF A KIND. You will not find another instrument like this one.
Please call me at (406) 690-0605 to talk more about this guitar, or visit banuelosguitarstudios.com to email me.
Terms of Sale and Shipping Information:
The Vihuela will be professionally packed and shipped via UPS Ground to US. I will warrant the instrument's condition as packed. Returns will be considered for shipping damage ONLY. Any shipping damage must be documented and filed with UPS; otherwise, return claims will be denied.