2008 Kenny Hill Master Series- Torres Model - $3,600
by Martin Glaubitz
(Bath, Maine )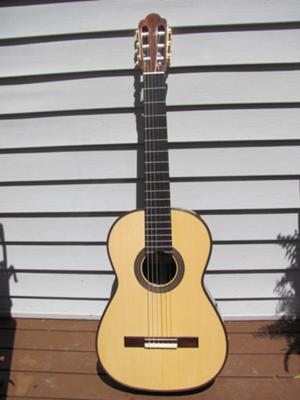 2008 Kenny Hill Master Series Classical Guitar
Beautiful guitar in near-perfect condition. This Torres model is based on his FE 12 model guitar (1856). It is braced with a 7-bar fan and is just slightly smaller than standard. The sound, however, is full and rich, not reduced in any way. Kenny Hill describes it as "strong, with singing highs, solid big-chested bass." Very appropriate guitar for a player with smaller hands and/or limited reach. Wonderful instrument to play, but I must sell due to a serious shoulder injury which precludes my continued playing.


The guitar has a 650mm string length and is finished with French polish. Specs are as follows:
Soundboard is European spruce. Back & sides are Indian rosewood.
Neck is Spanish cedar and the fingerboard is ebony.
Overall length: 38 inches
Body length: 18.5 inches. Body depth: 3.75 inches.
Lower Bout: 13.25 inches. Upper bout: 10 inches.
Package includes a Torres Custom Arched Case and an Oasis Guitar Humidifier.
Price: $3,600. Shipping costs depend upon buyer's location.
If you purchase this guitar, you may return it within 7 days of receipt if not completely satisfied (purchase pays shipping costs). If the package is returned in the same condition as received, a full refund will be provided.
This a great guitar which sells new currently at $4,995 plus the case.