2007 Tobias Berg #52 classical guitar
by Brett
(Salt Lake City, UT, USA)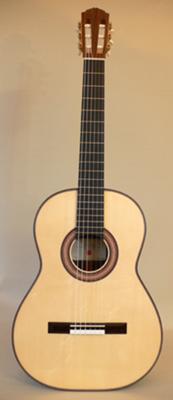 I am interested in selling my guitar. It has Spruce top, Indian Rosewood b/s. Finish is shellac. The tuners are Rogers and incredibly smooth. The guitar shows very slight player wear. It has no damage and has not been refinished. The photo attached is of the same model. I don't have photos of the instrument at hand.


I purchased it from GSI a couple of years ago. I couldn't be more pleased with it. However, the economy has been rough. I would just as soon not sell it. The instrument is fabulous. I don't play professionally but I do play almost every day. I have several other guitars and this one has spoiled me. I don't enjoy the others since I purchased this one. There is a reason that Berg has been gaining notoriety. This instrument is lightweight and responsive.
The guitar is in Utah, USA. I am not interested in international shipping without full payment up front.
I can be reached at n7kg (at) arrl.net if you are interested.
If you are looking for a fire sale, this would not be the guitar for you. I am negotiable, but have no interest in giving such a fine instrument away. They are difficult to get and sell out quickly. You may email me for pricing and other information.
Thanks for reading my post!
Brett