2007 David Argent Spruce Concert Classical Guitar For Sale
by Orson
(London, UK.)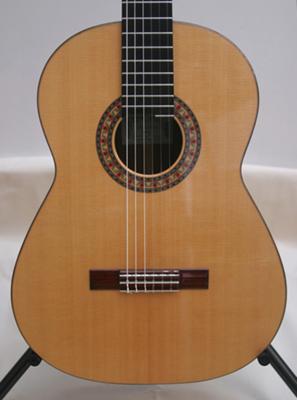 2007 David Argent Spruce Concert Classical Guitar
--SOLD!--


2007 David Argent Spruce Concert Classical Guitar
This is a immaculate 2007 concert, classical guitar from the Australian Luthier David Argent in Spruce. The sound and range of colour from this guitar are incredible. This is a lattice braced guitar with a well balanced, round and powerful sound.
Hard case included.
Join in and write your own page! It's easy to do. How? Simply click here to return to Used Classical Guitars For Sale.
Lost? Search Our Site!
Classical Guitars --- Spanish Guitar Makers --- Other Guitar Makers

Classical Guitar Players --- History of Classical Guitar --- Learn to Play Classical Guitar

Build Classical Guitars --- Guitar Making Schools --- Privacy Policy

Used Classical Guitars for Sale --- History of Classical Guitar