2006 Greg Byers Sp/Ind Short Scale (613.5 mm)
by Jonathan Newberry
(Richardson, TX)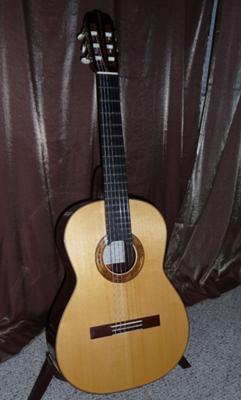 2006 Greg Byers
This is a like-new short scale (613.5 mm) classical guitar from world-renowned USA luthier Greg Byers. He built this instrument for me in 2006 and has been well played yet meticulously cared for. I am asking 6700.00 for it.


Have a look at his website which details many aspects of his construction philosophy and design. Particularly relevant to this guitar are his comments regarding shorter scale lengths in general (FAQ section).
This instrument incorporates all of his standard features, notwithstanding the scale length and slightly narrower string spacing at the nut (41mm string spacing), as opposed to 43-44 on most guitars. Both of these changes help accommodate guitarists with smallish to average-sized hands make the larger reaches. 613.5 mm is the same length as a 650 with a capo on the first fret.
This guitar has a strong, clear sound (despite its smaller size) and is a perfect concert-level, quality instrument for someone seeking the advantages of a short scale.
A new Byers like this will cost you about 10K (and a couple of years wait time).
Email jonathne@baylorhealth.edu for additional pictures, inquiries, etc.