2006 Contreras Concierto 2A Cedar / Indian Rosewood
by Marc
( Madrid)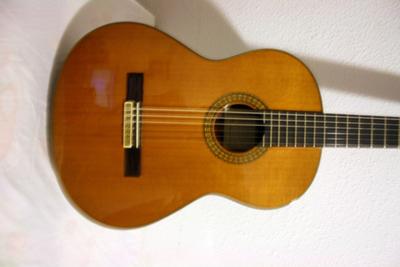 2006 Contreras Cedar/Indian Rosewood
Hello All,


I´m selling a 2006 Contreras Model- Concierto 2A.
The top is made of Cedar and the back and sides of Indian Rosewood. Its sound has opened up nicely and is very soothing to listen to. There is some minor playing wear .A decent reliable entry level concert guitar from the workshop of one of the last great Madrid builders. The price is 2000 euros (2900 euros new)Cibeles case included.
Marc
(34) 629 944 380
marctucciarone@yahoo.es
Lost? Search Our Site!
Classical Guitars --- Spanish Guitar Makers --- Other Guitar Makers

Classical Guitar Players --- History of Classical Guitar --- Learn to Play Classical Guitar

Build Classical Guitars --- Guitar Making Schools --- Privacy Policy

Used Classical Guitars for Sale --- History of Classical Guitar