2006 Antonio Marin Montero Classical Guitar For Sale
by Benjamin Dwyer
(London, UK)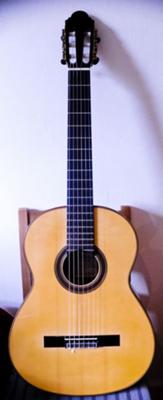 Antonio Marin Montero (2006) £5,500
This guitar was made for me especially by Antonio Marin Montero. I obtained it directly from his taller in Granada.


I have played it in performance at the National Concert Hall in Dublin, where I gave the premiere of my 12 Etudes for Guitar and my Brazilian tour of 2008 where I played my Guitar Concerto No. 1 with the Santos Symphony Orchestra. I recently played it with the Callino quartet in London.
This guitar is in immaculate condition and has a remarkable sound. The tone is clear, with a resonant bass which carries even over the strings of a full orchestra or a string quartet. A truly exceptional instrument, it was constructed to my specific requirements and has a string length of 64 cm (Julian Bream's personal choice as well), which makes it eminently playable. Photographs available.
-Antonio Marin Montero Classical Guitar-
Body: Indian Rosewood (high quality, strong grain, beautifully varnished)
Top: European Spruce (shellac, French-polished top)
Year: August 2006
Decoration: Signature Marin rosette and bridge
Neck width: 52 mm at the nut
Tuners: Rubner with ebony buttons
Weight: 1400 grams (approx.)
Price -- £5,500 (plus shipping)
www.benjamindwyer.com
info@benjamindwyer.com