2005 Kenny Hill Torres 1856 (FE12) - $2900 Spruce/Braz
by Gary
(Providence, RI)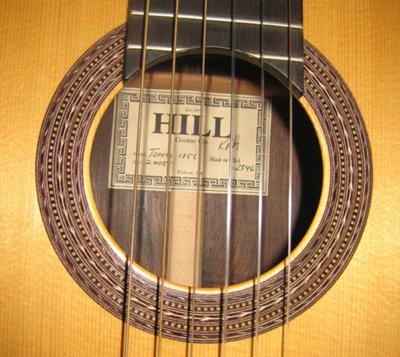 2005 Hill Torres 1856 FE12 - $2900
Spruce/Brazilian - used condition but looks, sounds, and plays fantastic.


I have more pics on the 'net, and a YouTube as well.
Year: 2005
Serial Number: 2346
Top: Spruce
Back/Sides: Brazilian Rosewood
Scale: 650 mm.
Width at nut: 50 mm.
TKL Hardcase included
Action height at 12th fret, with string held at first fret:
6th string: 4.5 mm.
1st string: 4.0 mm.
Playability is fine, with plenty of room at the saddle to lower the action
Plenty of playing wear on the top, because it's a great guitar to play! I found it impossible to show the fingernail marks in the pictures. Suffice it to say there are many, but they are all superficial, with no "string dings". There is also a repaired crack along the edge of the lower bout, just below the area where the right arm rests in playing position.
There are some slight indentations in the back of the neck, the only truly noticeable one being right under the thumb when playing in about the 7th position. It's not a problem, but I try to mention everything so the buyer knows what they're getting.
Ultimately, the guitar looks, plays, and sounds fantastic!