2004 Mint Ramirez 1af Flamenco
by Jeff
(Seattle)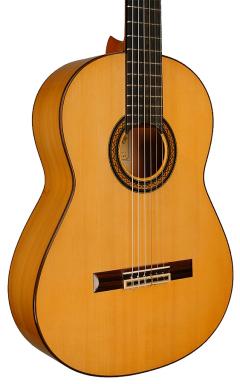 2004 1AF SP/CY guitar is the top-of-the-line flamenco model from the esteemed Ramírez workshop which is suitable for both performance on a concert stage and for traditional flamenco playing with dancers and percussionists. It is a very lively instrument with excellent playability and volume; and has an authentic Spanish sound with a lot of bite, making it one of the favorite choices for serious flamenco guitarists.


http://cgi.ebay.com/ws/eBayISAPI.dll?ViewItem&item=130331360402&ssPageName=STRK:MESELX:IT
Instrument Details: French Polish Finish, Nut Width 52mm, Scale Length 656mm
Condition Excellent! Country Spain, Back & Sides Cypress, Top Spruce.
The current retail for this guitar new is $13,7500.00 and a sale price of $11,000.00. Will Sell For $6,900.00 Buy it Now. Or Best Offer.
Comes with a J.W. Eastman (CAGT15) black hard-shell case.