2003 JOSE RAMIREZ GUITAR 1A C86 CWE
by David
(New Jersey)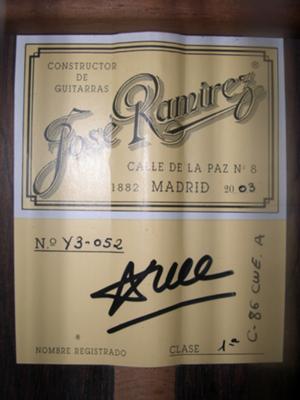 2003 JOSE RAMIREZ GUITAR 1A LABEL
This Ramirez guitar is one of a kind. Perhaps only one in the world. It is Cutaway C86 CWE but 1a concert model. Not just 1a but made with best German Spruce and beautifully figured Brazilian Rosewood. Unique indeed.


Beautiful Sound
In early 80's Jose Ramirez III began to experiment with a guitar model with shorter scale length of 650 mm. He then came up with the C86 model in 1986. The result was a sweet and charming guitar with a very easy to play action that made it a delight to play.
Well known classical guitar blogger Pepe Vergara owns a C86 and speaks highly of the model: "The sound is so enchanting that I would not trade for anything else. Liona Boyd thought the same thing and used the guitar for many of her concerts and almost always for her recording…I told Amelia Ramirez recently about the beauty of the sound of this guitar and she agreed with me. This was a so charming guitar that Jose Ramirez IV (after his father death) decided to make a student model after this guitar…"
They only made a limited number of this model. This seems to be the last guitar Jose Ramirez III designed.
C86 Cutaway CWE Model
This model was designed by Ramirez IV with the collaboration of the Jazz Guitarist Marcel Dadi to enable amplified guitar sound and for playing crossover music.
Specifications
Scratch free MINT Condition except for one ding on lower bout treble side. Basically in unplayed condition.
Master grade German Spruce
Figured Brazilian Rosewood
Sides lined with cypress which enhances resonance of the guitar and adds stability
Guitar scale is 650 mm, nut 52 mm. Very comfortable to play.
Action is 3.8 mm at 12th fret with plenty of room for saddle to go down
Fustero Tuners in Mint condition ($650)
Lacquer finish throughout.
Fingerboard is Ebony.
Neck is reinforced with Ebony insert.
Fishman Prefix / ProBlend pickup.
Hard Case included.
The Best Possible Price
To order 1a C86 CWE cutaway with Brazilian rosewood will cost around $18,000 now.
TERMS of sale
· I will allow two-day trial period. I'm confident that you will love this guitar, but in case of return, the guitar has to be in the same condition as shipped to have your money back.
· I will charge the actual shipping fee only without packaging fee. It will be packaged with utmost care.
· The guitar must be fully insured for shipping.
Email me for price dsung730 (at) gmail.com