2002 Stephan Schlemper Concert Guitar - Solsticio
by Jake
(London)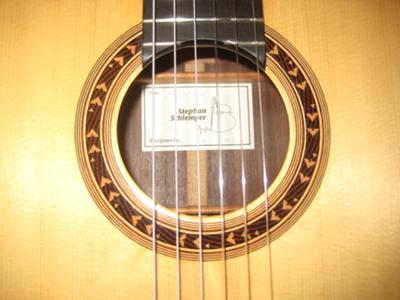 Rosette
2002 Stephan Schlemper Classic Guitar - Solsticio.


Soundboard: Spruce
Back: East Indian Rosewood
Neck: Cedar
Fingerboard: Ebony
Tuners: Rubner
Finish: French Polish
Case: Yes / Carbon fibre case
Condition: The top has just been French polished and almost all of the nicks and scratches are gone. Some marks are still noticeable: by the bridge where an e-string and b-string snapped leaving marks which are now repaired and an indent smaller than an inch long above the bridge.
Cracks: There were two cracks on the top which have been repaired. They are parallel to the strings and the first was 3.5 inches long and the second was 2 inches long and is parallel to the first.
Repairs were completed by Christopher Dean and are done to a very high quality.
Back: some faint wear of the French polish but in very good condition.
Sides: very good condition.
Tuners: small dent in the wood below the tuners.
Sound: lovely clear warm sound all over the guitar. The basses are deep and warm and the trebles are even and mellow. The guitar projects well and it's an easy guitar to play. I recommend it to an advanced player/student.
The guitar has suffered a few knocks but it has been well repaired, the sound and playability has not suffered in anyway and it's a pleasure to play this instrument.
Price: £2900