2002 German Vasquez Rubio Hauser I Model
by Brandon
(Nashville, TN)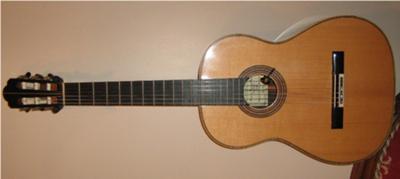 Full Front
2002 German Vasquez Rubio - Hauser I Model


I am looking for a new home for my 2002 German VAZQUEZ RUBIO Hauser I. This is an amazing guitar!!
This is a concert level instrument. I am only selling it now becasue I have a tour offer on the line but I don't have the correct gigging gear so I am trying to raise as much capital as I can, quickly. PLEASE BE AWARE -this is a BRAZILIAN ROSEWOOD Hauser NOT the Indian and also It has ROGERS TUNERS NOT Fuestero. Hiscox Case included. This guitar is a dream.
- Type / luthier: 2002 German Vasquez Rubio Hauser I
- Scale length (mm): 650
- Top: Aged European Spruce
- Back / Sides: Very Nearly Black Brazilian Rosewood
- Fingerboard / (bridge): African Ebony
- Sound: Like a $15,000.00 concert classical guitar, no joke .
- Condition: Well cared for and well played. I won't try to tell you this guitar has been in a humitified cased since I got it because it hasn't. I have played it for hours everyday I have owned it and loved every moment. Some minimal table play and small love mark but for the most part I treat her like a baby
- Price: $5,5oo.oo plus shipping
- Viewing / trial possible: absolutely PM with ideas and details
- Location (nearest city):Nashville, Tn
HD pics available pls email,
CarmineDaMedici (at) yahoo.com