2001 Manuel Contreras II Double Tapa (Top) Guitar
by Guitar Salon Asia
(Singapore)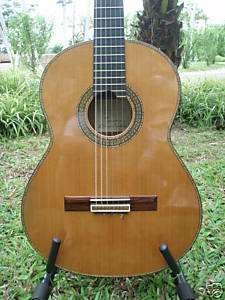 Manuel Contreras II Double Tapa
The Contreras Double-Top is perhaps his best-known and most sought-after design. Several players have performed on this model since the 1980's, including the Romeros. The name "double-top" is actually a slight misnomer: in Spanish "tapa" means "cover" and actually refers to an additional piece of wood that is "covering" the inside of the back. So in reality, the back (not the top) is doubled-up, with the rosewood exterior and tone-wood interior (this cedar top model has a piece of cedar lining the inside of the back). This is in line with the Madrid school of using double sets of wood - Ramirez line the sides of the 1a with cypress and Bernabe of course uses double Brazilian sides on some of his models.


Not only is esthetically beautiful but also the chosen woods together with excellent craftsmanship of Contreras combine to deliver a guitar with exceptional musical intensity.
The voice is crystal clear and has immense power producing an ethereal quality reminiscent of playing in an old Spanish church. The ease with which sounds and music can be brought from this guitar makes it a pleasure to sit and play. Harmonics, ornaments and all those other tricky characteristics of the guitar are delivered with ease.
This 2001 Manuel Contreras II Double-top is extremely powerful with a very dense, yet warm sound. A very solid concert instrument, perfectly suited for the concert stage and any type of ensemble situation. It was previously owned by a concert guitarist.
Top: Fine grain solid cedar
Back and Sides: Solid Brazilian rosewood
Tuner: Fustero machine head
Frets: 20th frets
Case : Hiscox
Scale/Nut: 650/52
A brand new Manuel Contreras II Double-top guitar is now retail for $15,0000.
I am open to any offer.
Please e mail to info at guitarsalonasia dot com or visit my web site for more pictures of this guitar.
www.guitarsalonasia.com