2000 Ramirez 1A Traditional Guitar For Sale
by Kevin B.
(Maryland)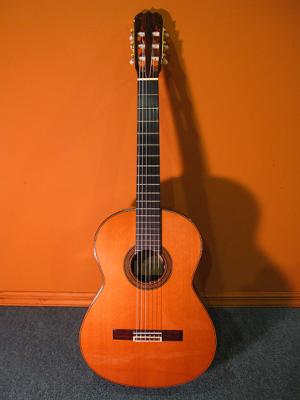 2000 Ramirez 1A Front
For Sale: 2000 Ramirez 1A Traditional Guitar


This is an incredibly beautiful guitar in sound and workmanship. It has a Cedar Top with Indian Rosewood back and sides and is 650mm scale. The string height is comfortably low as far as Ramirez guitars go with no sacrifice to tone. It is an extremely playable guitar with a very rich and robust tone. The guitar was completed in March of 2000. It was one of the last 1A's made under the last remaining Ramirez son, Jose IV, before his death in June of 2000 as it bears his signature on the label. It is in immaculate condition with only minimal wear. Overall this guitar is in new condition.
This guitar has been well cared for in a smoke free environment keeping an average humidity of 45% to 48%. The current price for a new Ramirez 1A is $11,000. Yikes! Spend a little less and get perhaps an even better guitar.
Asking $5800
Additional HI-Res pictures: http://www.kevinburnes.com/Ramirez2000.html
This is a great guitar. One of the better playing Ramirez 1A's I have had the priviledge to own and play. The Cedar smells great too! Should you have any further questions please feel free to contact me.
I am willing to ship within the USA.