1973 Classical Hand Made Guitar by Manouk Papazian For Sale - $6,500 or Best Offer!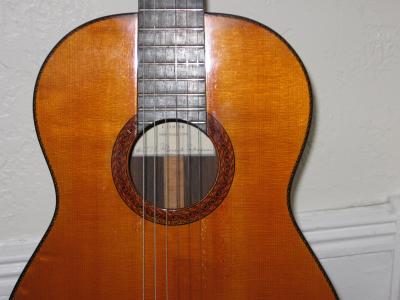 1973 Classical Hand Made Guitar by Manouk Papazian
This is a beautiful classical guitar made in 1973 by hand by the master guitar maker Manouk Papazian.


This guitar is in near mint condition and comes in a hard shell case. This guitar was purchased by the original owner directly from Manouk Papazian at his house in Stuyvesant town in NYC in 1979.
Papazian selected the guitar for the owner and said that this was of "the highest quality". This master guitar maker produced an estimated 400 guitars in his lifetime. This is a very rare guitar. Papazian's name appears in the Rosette. Papazian used this technique to denote the highest quality instruments.
The guitar is made of Brazilian rosewood for the back and sides. It has a German spruce top with a figured top and an Ebony fingerboard. This is truly an unbelievable instrument. It has never been repaired or damaged in any away except for a cosmetic touch up. Papazian himself repaired the finish in the face of the guitar in 1980.
According to the owner, The guitar has a beautiful sweet sound. This guitar has been used in concert halls and has a very clear sound that can be heard throughout the hall. An outstanding instrument and one that is a must have for any serious classical guitar player.
Asking $6,500.00 or best offer.
Please contact me at MWMPT2003@yahoo.com.