Masaru Kohno No. 30 Classical Guitar (1981 Signed Model)
by Sean
(Houston, TX USA)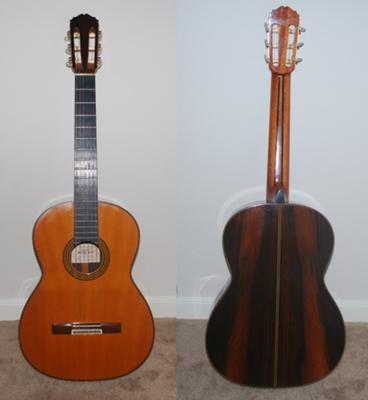 Masaru Kohno No. 30 Classical Guitar
I looking to sell my 1981 Kohno 30 classical guitar. It is in excellent condition, only a few minor cosmetic marks. Many people who have played and heard it over the years have said it is one of the finer Kohno 30s that have heard. I'm not sure what to ask for the price, I couldn't find any similar guitars for sale on the internet. I am open to offers. Please email me at
streilly (at) hotmail.com
if you are interested (or post a reply or question here). I am located in Houston, TX USA and can ship. I would welcome any comments about this guitar.

Thanks for looking.
Lost? Search Our Site!
Classical Guitars --- Spanish Guitar Makers --- Other Guitar Makers

Classical Guitar Players --- History of Classical Guitar --- Learn to Play Classical Guitar

Build Classical Guitars --- Guitar Making Schools --- Privacy Policy

Used Classical Guitars for Sale --- History of Classical Guitar